About Us
People visiting Los Angeles are always surprised to find authentic Texas-style barbeque in California. However, The Original Texas Barbeque King in downtown Los Angeles uses recipes straight from Texas, guaranteeing a genuine Texas BBQ right here in L.A.
Rod Daniels launched The Original Texas Barbeque King in 1994 as a catering business. Due to the popularity of Texas barbeque in Los Angeles, his restaurant opened at the corner of Sunset and Figueroa in 1994. Today, you can find the adored barbeque restaurant and catering business just a short distance from Dodger Stadium!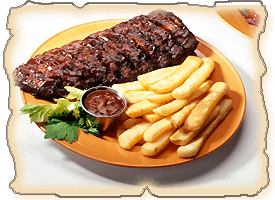 When you're looking for lip-smacking, fall off the bone, slow walked barbeque in Los Angeles, stop in and visit us at The Original Texas Barbeque King. Serving a variety of meats, including pork, turkey, chicken and our famous Texas-style barbeque ribs, there really is something for every barbeque lover!
Stop in today and make sure you arrive hungry!
What people are saying about us!
Dear The Original Texas Barbecue King,
I just saw you got new reviews
Rating: 5.0
By: Alex B.
On: Yelp, 02/16/2016
Comment: I get takeout here weekly and I love the place. Decor is nothing special, but the food is always good and I've never had bad service here. Pricing is competitive with other good barbeque spots.
Rating: 5.0
By: Jennifer M.
On: Yelp, 02/04/2016
Comment: Go to the BBQ for catering. Used them twice so far. Once I picked up an order that was for 20ppl on a party bus. The meals were individually wrapped & it was phenomenal! The pick up experience was memorable, the location is not the best area. The facility was clean, fantastic slow cookers in the parking lot. Original BBQ to the core! I drove around to the gated back entrance to load up. You want REAL BBQ go here! It's a family business and they sell quality. Don't expect white gloves small servings and garnishes. This is a full meal so come with an appetite. The pricing for big orders is really good. I also used BBQ king for a memorial gathering with family. Rod was there the entire time with a server and bartender. The food and service was flawless.
Rating: 4.0
By: Manuel Barajas
On: Google, 01/28/2016
Comment: Good bbq specials
Dear The Original Texas Barbecue King,
I just saw you got new reviews
Rating: 5.0
By: Martha C., Los Angeles, CA
On: Yelp, 11/26/2015
Comment: I have not tried the food yet, I'll update my review after. I did however want to address the interior. It is a BBQ joint, it is in a ghetto area, if you are looking for Lucille's and you come to the wrong place and you should have known that when
you came. so I think it is unnecessary to say that this place is not well taken care of because I think it looks just fine and offers tables which  you need and napkins with you need and you are given service when you come. BBQ takes time to cook so do not
expect to get your food right away and they are busy cooking it so be patient. Those who are complaining and then writing a second review to complain again didn't like it the first time so I shouldn't have come back. This is not Beverly Hills, but it smells
great and I love the setting as it is perfect for a BBQ joint. This review is solely for the interior and service. Review 2 Food: You can tell that there is a lot of time and preparation taken to make this food. The macaroni and cheese is good and comes with
a crunchy layer no cheese on top. The barbecue beans are delicious and sweet. The sauce that is used on meat is also very delicious so much so that I could drink it from the bottle. We got the serving for 8 to 10 people. We have ribs, chicken, and sausage
and brisket. Honestly I thought it was just as good as Lucille's but with a better atmosphere because it wasn't some chain restaurant it was like having it out of someone's home cooking kitchen.
Rating: 5.0
By: lisamarie Lopez
On: Google, 11/12/2015
Comment: We had the rids chicken mac n cheese beans everything is good for a good price too